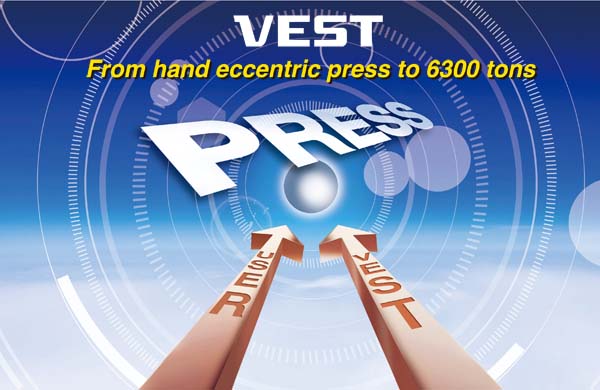 Customize press machines depending on the work contents.
VEST's original machine lineups.
Press machine
Punching press with a gate width of 4000

Straight side press with special specifications

C frame press with special specifications (changes in stroke length and die height)

Screw servo press with 2-point bottom slide

Underdrive Thomson working machine with NC table

Servo press with 4-point bottom slide
Robot
XY gripper feeder (NC control)

NC three-dimensional robot
[Click here for a video]

NC precision gripper feeder
[Click here for a video]

Robt line

Line configuration

Leveler feeder
Independently driven robot
Mold hydraulic clamping system

(Robot rebuild machines also available)
Number of optimal solutions matching the number of users.
The third option Rebuild machines
Click to display the state after the rebuild
We can provide consultations on the level of the rebuild.
We sell a rebuild machine not only for a C type frame press but also for a straight side press.

A tilting press currently out of production becomes available by a rebuild machine.

Foreign-made rebuild machine

60 ton high speed press of Kyori Kogyo and AIDA ENGENEERING
(still capable of production in good shape after more than 11 years)
[Click here for a video]

Rebuild machine of AIDA ENGENEERING

20 ton rebuild machine of YAMADA DOBBY
[Click here for a video]

Field survey before rebuild

Rebuild machine at delivery
We also provide optimum molds.
Progressive working (also supports a full-turnkey)
Large progressive working line

Line configuration

Straight side
double crank press
NC high tension coil line
Oil applicator
Product alignment equipment
Scrap cutter
Scrap shooter/conveyor
Automatic mold replacement equipment

Medium progressive working line

Line configuration

Straight side
double crank press
NC leveler feeder
Oil applicator
QDC system
Pre-roller with pillar
Servo tap system

A photograph at the pre-shipment acceptance inspection at the VEST affiliated plant.

C type press working line
[Click here for a video]

Line configuration

C type press
NC roll feeder
Digital rotary cam
Error detector
Residue blowoff detector
Coil material cleaner
Press interlocking lubrication equipment
Scrap n cutting equipment
Scrap discharge system
Product conveyor
Turntable type uncoiler

From small press lines to large press lines

The coil line also supports a plier

The progressive mold of the three-dimensional shape product delivered to a shovel manufacturer
Presses and machines below are increasingly adopted not only in overseas plants but also in domestic plants. Please use the VEST overseas network.
In addition to main bodies of press machines, we also offer peripheral equipment such as robots and leveler feeders, etc.
Secondhand machine
We search for machines with your desired specifications from across the country.(A photograph of a 400 ton bridge link press)

Second-hand RY robots and leveler feeders are also available at an affordable price.
Power up the existing press machines with peripheral equipment.
Hydraulic die cushion system
Use a general-purpose press machine to elicit performance rivaling or surpassing that of a fine blanking machine.
Die changer
Wide variations depending on the size and replacement method of molds.
Monitor and record the working status (traceability)
Graphic load cell

Graphic bottom dead center detector
Servo tap in mold (progressive/robot)
Allows installation on an intermediate table of a robot line as well as a progressive mold.

Incorporation of a servo tap in the press process enables a great cost reduction, tact speedup, eradication of tap omissions, and quality improvement, which also promises a longer lifetime of a tapping tool.

[Click here for a video of a progressive mold servo tap]
Equipment lineups further opening up the possibility of press working
Scrap processor/Hydraulic clamp/Pre-roller/Die roller/Mold replacement equipment/Error detector/Automatic box replacement equipment/Product extraction equipment for compound mold/Coil material cleaner/And the equipment desirable for your plant
Important maintenance of press machines after delivery.
Press machine repair
Repair of press machines Ecology that realizes a prolonged lifetime of machines through maintenance.
Mechanics

Repair of clutches / brakes

Disassembly / investigation of clutches / brakes

Additional work of bolsters

Replacement of clutch linings
Electricity

Inspection of a servo press

Hydraulic pressure

You can count on us for maintenance of hydraulic devices.
Press peripheral equipment
Peripheral equipment also revives by replacing parts.
Field repair of coil lines

NC leveler feeder
〈Before retrofit〉

NC leveler feeder
〈After retrofit〉
In many cases, a servo motor and an electric control board become non-usable while a mechanical part is still usable. Replacing servo motors or electric control panels, or rebuilding operation panels provides a longer lifetime of leveler feeders.
Press machine relocation
Weight transportation work entails an important work for installing a press machine.
Towing work (Large press)

Towing work (C type press)

Lift the contents in the field

Transport by trailer
VEST also supports the field of molds, the essence of press work.
Sales of molds tailored to applications
Molds for U.S. plants for domestic automobile parts

We manufacture molds suited for customer specifications

Three-dimensional shape progressive molds
Machine tools for molds
Wire cut electric discharge machine

Machining center

CAD/CAM
Recently, more and more young designers go straight to the three-dimensional CAD, rather than the two-dimensional CAD.