Ropes to sell high in second-hand machines
Rushing to sales to vendors will only result in beating down of prices for next to nothing.
Protect machines that have done longtime great work from beating down of prices
General second-hand vendors set purchase prices assuming stocks in-house. They cannot purchase machines (no idea when they can make a sale) at a high price, considering pickup fares, cleaning and storage costs, sales margins, and risks of burdens until making a sale, etc.
Ropes to sell high: sales for users in need (not allowed at a market price or based on a model year)
Please contact VEST in advance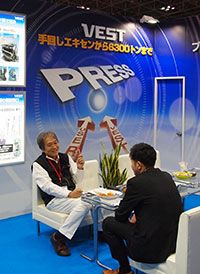 VEST previously has many requests by users who wish to purchase. If we have a machine that matches the request, we can purchase it at a high price. Even for a machine that is not requested, we can find a user who wants it through the VEST information network. In that case we ask you to allow us some time. Sales in plenty of time promises later purchase at a higher price.